RIPESS is sad to announce that David Thompson passed away on the night of Friday September 18 to 19, 2020.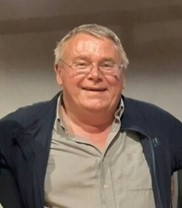 He is survived by his wife Rosemary and two sons, Francis and Louis.
David joined RIPESS in 2004 had been a member of the Board of Directors since November 2005, representing Oceania. He was involved in different committees and different workstreams. He had been co-coordinator (similar to co-president) since December 2019.
Over the years, he attended different RIPESS global meetings, as well as in-person Board meetings. He was with us at the last such meeting held in Bilbao in October 2018, in the occasion of the GSEF2018 event.
The last meeting he attended with RIPESS colleagues was the UN Inter-Agency Task Force on Social and Solidarity Economy meeting last November in Trento, Italy. This is where the picture was taken.
In Australia, David had a long career and service to the employment sector as the CEO of Jobs Australia for 30 years. He was also awarded Member of Order of Australia (AM) for services to employment and training in 2005. Besides, he supported the 'birth' of NENA (New Economy network Australia) and assisted with its ongoing organisational development. He was one of the original members of the NENA Steering Group, that was created after the first ever gathering in Sydney in August 2016; and introduced NENA to RIPESS.
Besides RIPESS, his other international activity was in COMMACT, the Common Wealth Network for People-Centred Development. This organisation has chapters in India, Nepal, Malaysia and in the UK. In recent years, COMMACT had become less active due to lack of resources, but was involved in building bridges with the RIPESS members in Asia (ASEC).
For RIPESS, we feel that his demise is a great loss, not only for us, but also for organizations/practitioners throughout the world who are promoting a people-centred approach to the economy and the whole of society.
David was appreciated by all his colleagues and his sense of humour provided much relief when we were too serious!
We send our sincere condolences to David's family', and grieve with them. May he rest in peace.