The enthusiasm of young people to establish entrepreneurship is a good sign in the economy hence more economic actors will distribute the power of the economy. The Asian Solidarity Economy Council carried out the hype by conducting the Youth Entrepreneurship Program (YEP), a mentorship program where expert mentors provide guidance to young men and women who are motivated to run and operate their own business enterprise based on the tenets of social solidarity economy. ASEC regards the importance of the program to funnel the young entrepreneurs in building the business on solid and sustainable foundations which are five dimensions of social solidarity economy.
Under the guidance of Dr. Rosalinda P. Ofreneo and Dr. Benjamin R. Quinones Jr., the founder of ASEC, this year 2021, the first Online ASEC Youth Entrepreneurship Program was held by ASEC Online Academy in partnership with the HOMENET Philippines. The training was held through Zoom Webinar and Google Classroom platforms last July 4 and ended August 17, 2021, and was completed by 26 participants.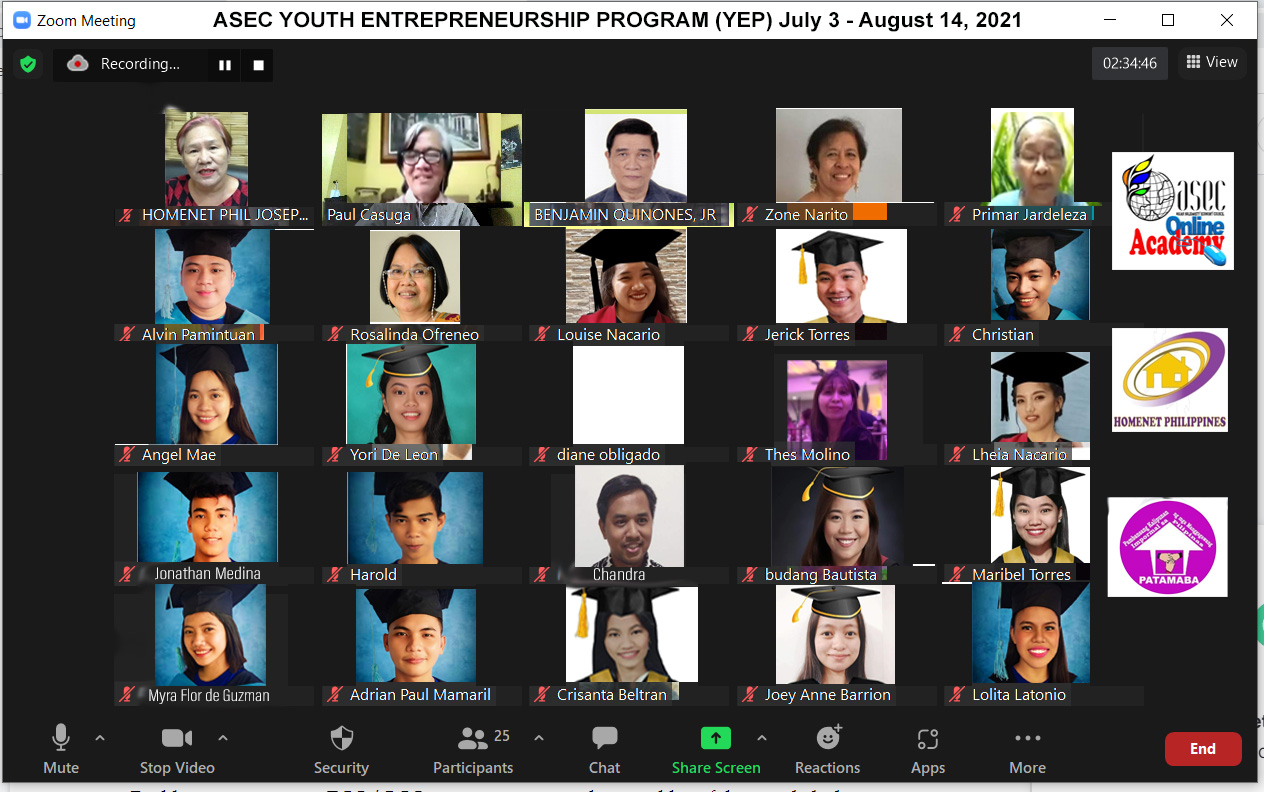 The training encouraged them to consider SSE enterprise rather than individually run business. Meanwhile, the SSE enterprise is an enterprise owned and operated by an organized group of people with great ideas whose mission is to support his/her family, neighbors (people), conserve the environment (planet), and make money (profit) to make the enterprise sustainable. Some practical tips were also given on how the entrepreneur can discover potential customers and clients which is very important for any business to sell their products and earn profit. Participants were introduced then to the use of community mapping as their tool in finding potential clients, customer needs, possible partners and as well as possible competitors.
To share actual experiences, three representatives from various organizations adopting the SSE were invited and presented their organization's experiences in organizing and operating their SSE enterprises: a. The saving scheme of the Village Savings and Loan Association (VSLA) by Ms. Prime Jardeleza; b. Business model of Kilos Unlad ng Mamamayan ng Real, Inc. (KUMARE) by Ms. Zonia Narito; and the PATAMABA-WISE group enterprise by Ms. Josephine Parilla.
On how to better build their own fund, participants were introduced to the Bayanihan Banking System (BBS), a system authored and introduced by Dr. Quinones, Jr. in the 1990s under the Bayanihan Banking Program became popular and adopted by the Department of Interior and Local Government (DILG), Philippines. The DILG mandated all local government units to adopt the BBP in their respective cities and municipalities. "Bayanihan" is a Filipino word for mutual help or solidarity. Bayanihan reflects the virtue of self-help in that each and every need (financial or otherwise) can be met not by external help but through the community itself.
ASEC is now preparing the next batch of YEP to be conducted in other Asian countries with their local resources and their local participants.
By Paul Casuga and Chandra Firmantoko