It is important to recognise that ASEAN as a sub-regional block of ten countries with about 650 million has been very active in engaging with state actors as well as with the business community. The ASEAN community Vision 2025 is a major undertaking in fostering as sense of solidarity among the people of ASEAN.
However ASEAN as a group is extremely weak in engaging with civil society and grassroots actors. This is where the Sustainable Development Goals agenda 2030 can provide a new platform of engagement. SDGs 17 has a strong partnership model in ensuring all parties work together namely the government, business, academia and civil society organisations. All the countries in ASEAN accepted the 2030 agenda in 2015 and are implementing and localising SDGs.
ASEAN can learn from both the regional UN-ESCAP as well as the High Level Political forum (HLPF). In both these UN processes there is active CSO and grassroots participation as CSOs are seem as partners in the implementation of SDG especially in fulfilling the theme of 'leaving no one behind'.
ASEAN has worked out a document drawing out similarities and differences between the ASEAN 2025 and the SDG 2030. In addition ASEAN coordinator for SDG cooperation is Thailand. The European Union has been assisting in this process.
In this context of SDGs, there is a place for social solidarity economy especially the grassroots movements, the community and solidarity based initiatives which have economic, social and environmental impact on the lives of ordinary people.  All over ASEAN especially in Indonesia, Thailand, Philippines, Malaysia & Singapore there are outstanding examples of solidarity economy as well as social enterprise efforts. These can be consolidated as people programs in building a stronger ASEAN.
There is a need in ASEAN to establish a High Level Taskforce on SDGs. This was first proposed by Tan Sri Michael Yeoh of ASLI. Such an initiative can strengthen the ASEAN community 2025 agenda as well as ensure that all the ASEAN countries draw a balance between economic, social and sustainability concerns.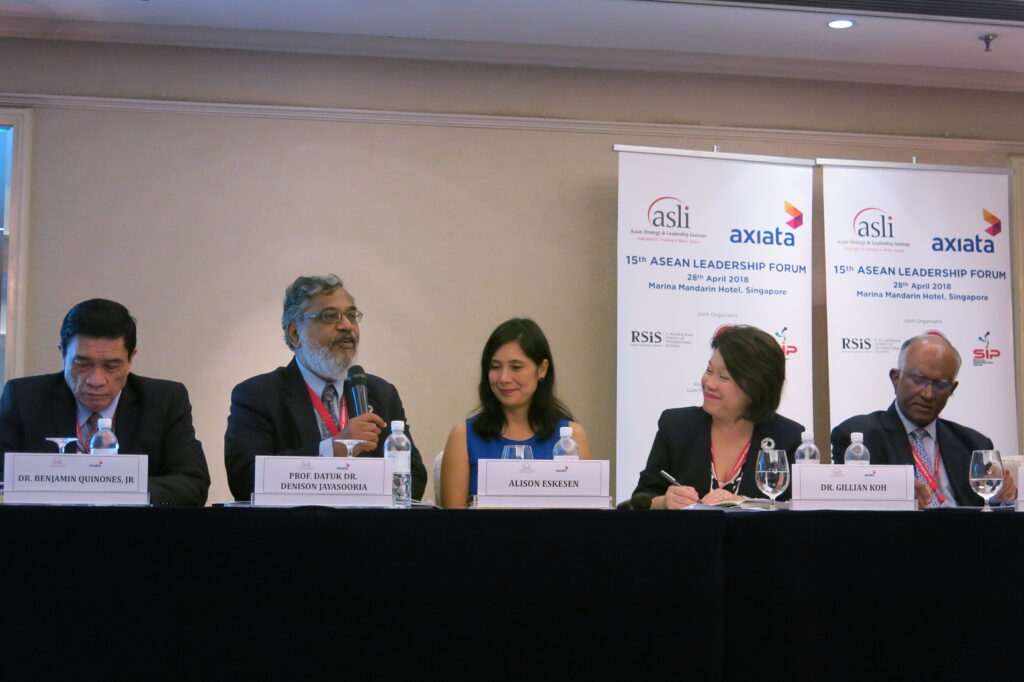 The Asian Solidarity Economy Council (ASEC) is working closely with reginal institutions such as UN-ESCAP as well as seeking to network with ASEAN so as to enhance the localisation of SDGs as well as ensuring that no one is left behind in ASEAN.
ASEC has focused, between June 2018 and early 2019, on strengthening its presence in a number of ASEAN countries through the cooperation of local partners. We will hosting national gathering in Thailand, Indonesia, Malaysian and Singapore to undertake a mapping exercise on ground level reality and case study. Based on these we hope to draw out policy implications especially on SDG 10 on addressing inequality and SDG 16 on ensuring justice in preparation for the 2019 HLPF. We hope to prepare a consolidated report on SDGs, SSE from an ASEAN perspective.
Prof Datuk Dr Denison Jayasooria (ASEC Chair) shared these thoughts at the 15th ASEAN leadership Forum held on April 28, 2018 at the Marina Mandarin Hotel, Singapore