On January 26, 2022, Judith Hitchman, Joint Coordinator of RIPESS, attended MedTOWN International Seminar on Social and Solidarity Economy held online.
The debate also included the reflections of Vic van Vuuren (President of UNTFSSE and Director of the Department of Business of the ILO), Amal Chevreau (Policy Analyst at the Social Economy & Innovation Unit, OECD ), and Victor Meseguer (Director of Social Economy Europe ). Georgia Karavangeli, irector of MedTOWN project, moderated the session.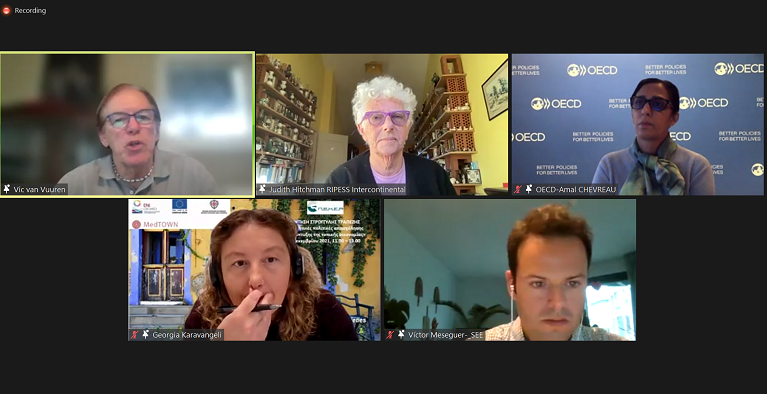 The event aims to maximise synergies between ENI CBC MED SSE-focused innovative projects and establish common reference parameters to evaluate the challenges and the limits of social experimentation and offer a space for critical reflections and debates.
The Seminar focused on knowledge acquired by social innovation projects with the capacity to transform the way in which the public administration and SSE entities relate to each other. It took a twofold approach: Showing how social experimentation and innovation can affect public policies in fighting poverty, inequality and social exclusion; and exploring the limits of the regulatory framework for the development of social innovation projects in the Mediterranean with the support of SSE entities.
To know more, visit HERE.