After celebrating our 25th anniversary thanks to so many women around the world struggling every day to carry out their projects, innovating and creating different ways of inhabiting and co-inhabiting the planet, last Women's Day, March 8th, and throughout this month, we wanted to highlight and celebrate them around the world and the SSE.
The steps taken in this quarter of a century have finally made the Social Solidarity Economy permeate and cross different sectors of society and institutions as a feminist, caring economy, necessary and more than ever urgent in a withered and sickly system that Covid has only highlighted as the consequence of a series of crises that we have been dragging along for the last 5 years: the economic, social, ecological and care crisis.
Women sustain, care for, maintain, create, fix, plant, manage, produce… and without us, the world stops.
Women, in their diversity and breadth, are the main pillar of life on the planet, but also of the production of services, goods and care. Just as in the Social Solidarity Economy: the SSE also seeks to produce goods, services, care and life. A different, better, shared, respectful and respected life.
And because every day should be women's day, we highlight the initiatives in different parts of the world where thousands of women are doing their bit to create a society in which the values of the social solidarity economy are what move them.
We started in Colombia, with BancaAlimentos, the small idea of a displaced woman from the countryside that has transformed on a large scale how waste is treated in Colombia and has helped many families and people in vulnerable situations and in the informal market to have a more complete diet.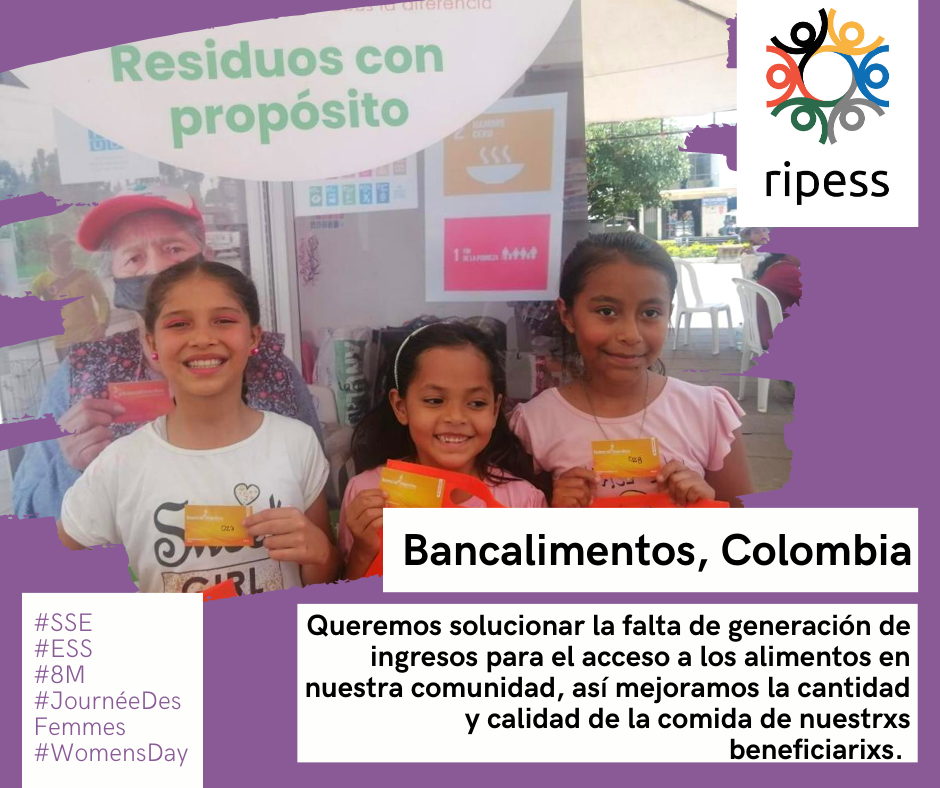 HOMENET SOUTHEAST ASIA (HNSEA) is the regional network of national networks of home-based workers, including the Association of Artisans of Cambodia (AAC), HomeNet Philippines (Patamaba), HomeNet Thailand, and CraftLink from Vietnam and eHomemakers from Malaysia. The network ensures the collective participation of its home-based worker members to seek appropriate solutions to their problems and issues through advocacy, networking and linkages, resource mobilisation, training and implementation of development projects for sustainability and self-reliance. ASEC, the Asian Solidarity Economy Council, our partners on the continent, work very closely with HomeNet. In this picture you can see our ASEC coordinator, Eri Trudini, participating in the last HomeNet meeting. There are more than 260 million domestic workers around the world – the majority of them women – and they are essential to global and local economies. Yet they remain invisible and unrecognised. We believe that all workers, especially women in the #InformalEconomy, deserve visibility, recognition and access to social protection.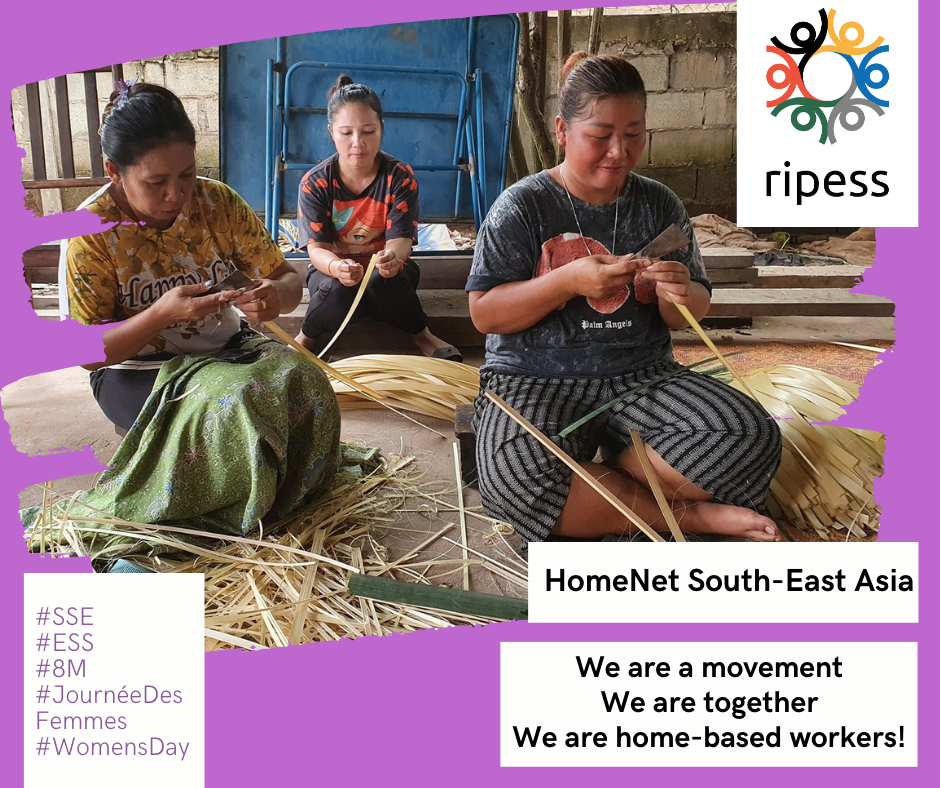 Babaresidence (baba means grandmother in Bulgarian) created by Ideas Factory Association / Фабрика за идеи , a member organisation of Ripess Europe, Bulgaria.
It is an initiative that brings together urban youth and elderly people in remote and sparsely populated villages, organised in self-organised women's cooperatives. Participants in the project spend a month living and learning in the mountain village, in order to create a meeting point between young people and the traditional culture of the elderly in the Rhodope Mountains of Bulgaria. Baba is a symbol of care, home, decision making at home in the Balkans. We work in the poorest and least populated area of Europe.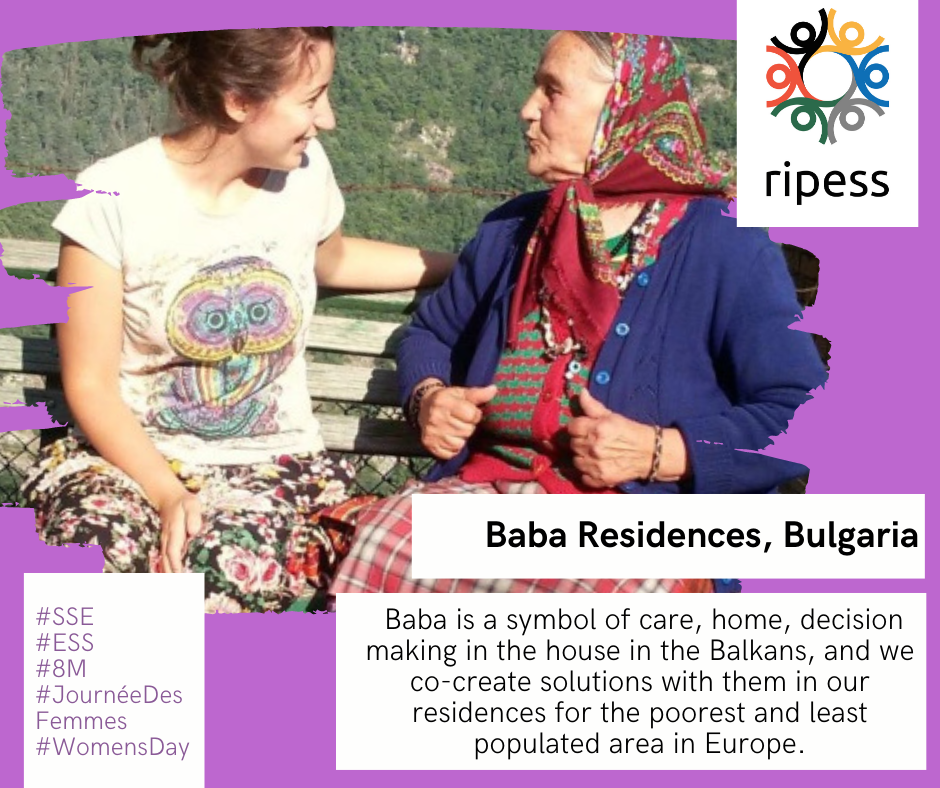 The Cooperative Lella Kmar الشركة التعاونية المركزية للا قمر البية is a project from ETHIQUABLE, a French solidarity cooperative that works with small producers and is part of Ripess Europe. In Tunisia, LellaKmar is a workshop for the transformation of wheat into couscous managed by women🌾since 2022.
Women are traditionally responsible for wheat processing in Tunisia. The workshop, which complies with ecological standards and is certified organic, allows the 23 women who traditionally prepared couscous and boulgour from durum wheat to continue their profession.
Processing is a powerful lever for increasing producers' incomes, which is why ETHIQUABLE financially supported the creation of this workshop, in addition to the support programmes of German international cooperation (GIZ Tunisia) and the USAID/.
Today, the members of the cooperative export a finished product, couscous or bulgur, directly to Europe.💪🌾🍚💜
The Red Sancarleña de Mujeres Rurales, a space taking part in RedESS Costa Rica and in turn from Ripess LAC.
In this network, women articulate and organise themselves to create spaces for training, sales, work… In a collective and self-managed manner, they work in five areas:
Sustainable successional agroforestry systems.
Right to food
Food sovereignty
Gender
'The seed' as a transversal axis in the life of human beings.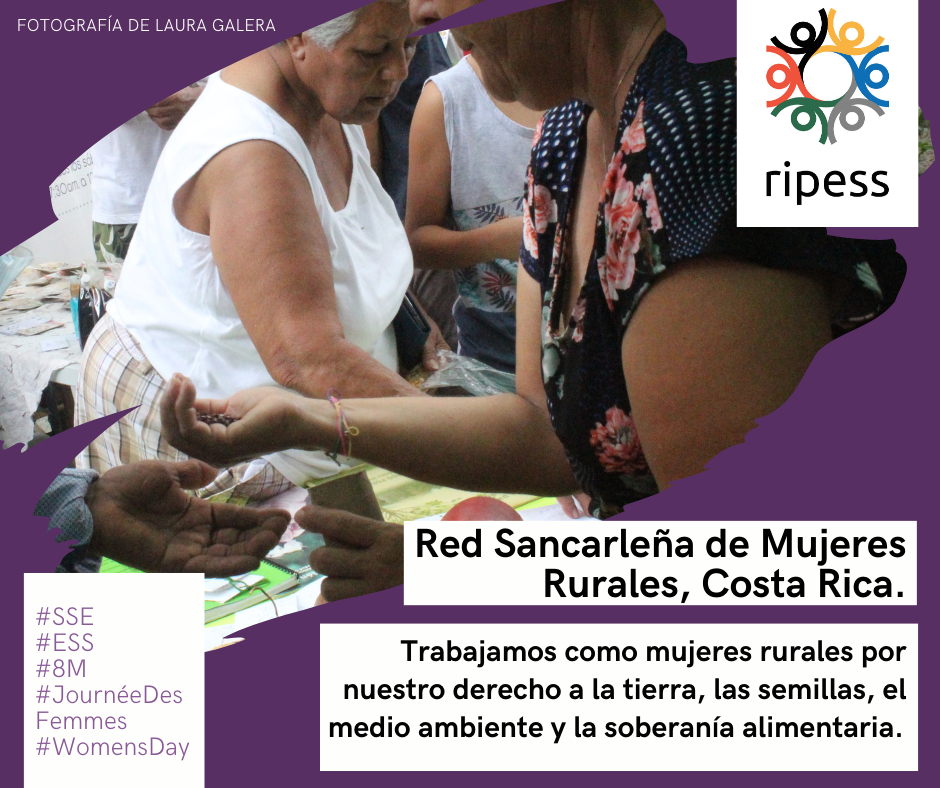 HenHouseCoop s a company founded by women working to close the gender gap in start-up and social enterprise investment in Australia, and through the ways in which they buy, invest and nest, they have the potential to change big economic levers through everyday actions. Despite not being formal organisational members of NENA, our counterpart in Australia, most of our partners know them and they are so strongly women-led, women-founded and women-focused that they are great role models as they support the work and mission of others who share the space to transform the world to make it more equitable and just.

Reas_Red, members of Ripess Europe and who have worked within their organisation to create protocols for action and knowledge about the situation of women in the SSE in Spain. Among other documents, they have produced the following, all with a strong feminist focus, just like their network:
– 8M: For an intercooperative feminist solidarity economy : Drafting of a manifesto on the occasion of 8 March.
– Analysis of the results of the Social Audit from a feminist approach: Publication of a report focused on indicators that measure the state of the organisations of REAS Red de Redes in terms of equality and equity (salary gap, participation in decision-making, existence of co-responsibility measures, use of inclusive language policies, development of equality plans).
– Elaboration and publication of the Guide of Good Practices of the organisations of the REAS Network of Networks for a Feminist Solidarity Economy: The document gathers 25 good practices from 8 territories throughout Spain, organised in 6 blocks or areas. In order to facilitate the transition towards a feminist solidarity economy, the aim is for the different good practices to provide added value to the #ESS and REAS RdR as a whole, and on the other hand, to make visible the organisations that carry out daily work to achieve organisations that put life at the centre.
PODCAST: "Feminism is here to stay"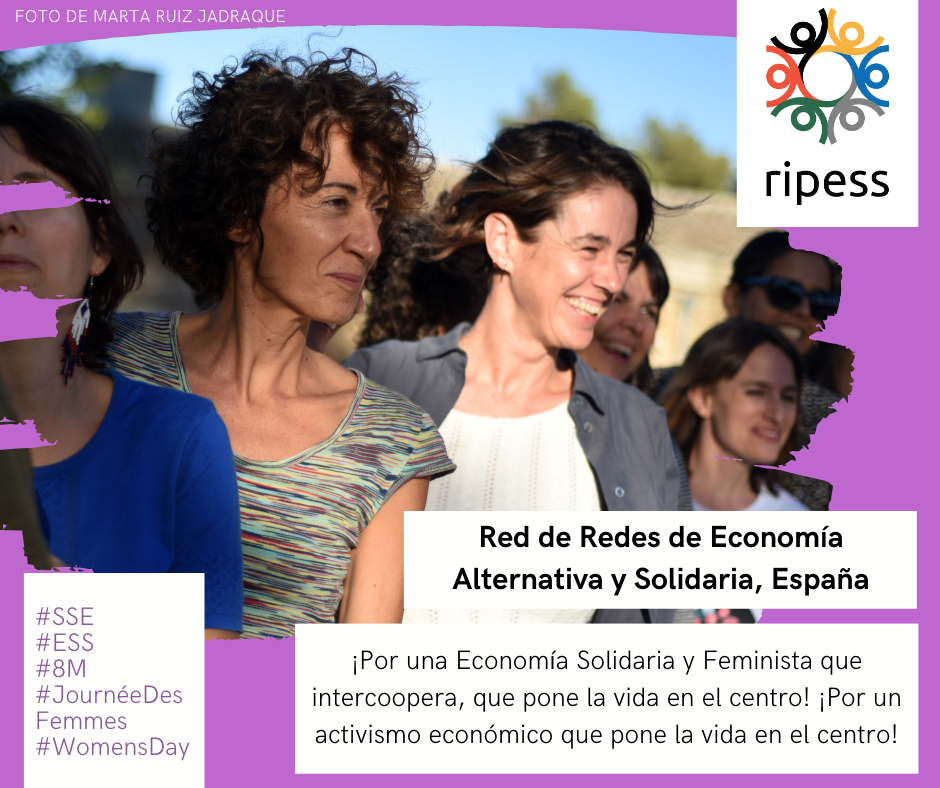 Congratulations on all this and more work to come!!!!
With the support of the ACCD