ASEC – RIPESS Asia organizes a conference to discuss the role of transformative economy in the revitalisation of rural economy through the Sustainable Development Goals (SDGs). The event is held from November 11th to 14th 2019 in Yogyakarta, Indonesia.
Written by Eri Trinurini Adhi, ASEC – RIPESS Asia member
The Asian Solidarity Economy Council (ASEC), member of RIPESS in collaboration with Yayasan Bina Swadaya (Bina Swadaya) convene a conference to facilitate a robust and open sharing of business models/approaches and applications among technology experts, business practitioners, and local citizens in finding solutions for a sustainable and inclusive region throughout Asia. The conference is held on 11 – 14 November 2019 at Yogyakarta, Indonesia. About 40 people are participating from 8 Asian countries (Indonesia, Thailand, Philipines, Malaysia, India, Sri Lanka, Hong Kong, China, South Korea) and two other nations (Australia and Spain)
The efforts of the United Nations to position poverty reduction and sustainable development as strategic priorities, and the lingering consequences of the Global Economic and Financial Crisis, have both intensified the search for innovative approaches to development. In this context an increasing number of governments and business enterprises around the world are heeding the advice of development practitioners, activists and scholars that more attention needs to be paid to the role of 'social and solidarity economy' (SSE).
The forms of economic activity that make up SSE generally acknowledge and apply a set of principles, norms and practices that seem particularly conducive to meeting peoples' basic needs and promoting environmental protection, decent work, the equitable distribution of resources and profits, and democratic forms of governance. SSE can play a crucial role in the realization of the 2030 Agenda and the Sustainable Development Goals (SDGs) by promoting and implementing inclusive and sustainable development through concrete social, institutional and technological innovations and practices. The linkages between SSE and the SDGs draw attention to its potential as an alternative model of development that can address the structural underpinnings of exclusionary and unsustainable development.
SDGs learning tour and international conference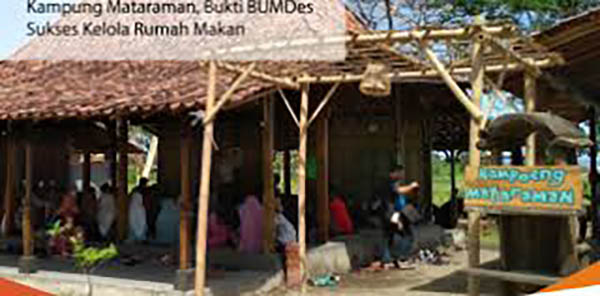 On this note, ASEC will held a SDGs learning tour and the international conference. The SDGs learning tour is occurred on the first day (12 November). Participants will visit the village of Panggungharjo, in District Bantul, Province of Jogyakarta. Panggungharjo village is one of the successful villages in Indonesia, which is able to collect local sources for village development. Many community business initiatives in this villages have been integrated into one village business. By integrated business they are able to work more efficiently, better serve and compete with other businesses without neglecting the social purposes such as job opportunities, equality, cultural identity and environment. Based on field observation, in the end of the day, it will be discussed on how this community-based business model can contribute to SDGs.
The second day (13 Nov 2019), there will an international conference on revitalizing village economy through social solidarity economy. On that day representatives from 8 countries (Malaysia, Thailand, Philippines, India, Sri Lanka, Hongkong-China, Korea) will share their social solidarity economy practices. Besides, it will also be discussed on how these community-based movement link to global movement through the World Social Forum Transformative Economy and ASEAN People Forum. The conference will be closed with a Yogyakarta declaration to draw the roadmap of village based transformative economy.
ASEC will also meet on Nov 14, 2019 to review its role and strengthen solidarity as well as advocacy for SSE and SGDs in the Asian and ASEAN context. We recognize that this is a timely period for grassroots movements to meet and strengthen their role and position in advancing SSE along with SDGs.